Thank You Guide
Thank You For Downloading Our Recipe & Grocery List!
Please Allow 10 to 15 Minutes For Delivery! (Be Sure To Check Your Junk Folder)
Important:

Read Below Before Downloading The Recipe
Hey, it's Cory here- founder of The Gut Program. I wanted to thank you for taking the time to download our recipe and grocery list to get you started on your fodmap diet.
Before you jump in, I wanted to tell you how grateful I am to have created The Gut Program!
When we first started out, much like you, we found it was almost impossible to maintain the low fodmap diet. Not only was their a lack of information, but our doctor provided almost no help!
We literally spent weeks trying to come up with something that was not only low fodmap, but that the entire family could stick to as well.
So once you download you recipe and grocery list, go to the store and buy some of the fodmap friendly foods on it, make the recipe and enjoy your dinner.
It is really that simple.
I also encourage you to take a look at The Gut Program and see how it can help you start and maintain your diet by providing you bi-weekly recipes, snacks, supplements, and more!
Not only will it provide you with even more recipe options but it will help you to jump start you into success.
The great news is that for a limited time, we are offering our sample box (normally $20 and sold only at doctor's offices) online for FREE - all you have to do is pay shipping. This box will come with the following:
2 Snacks

2 Recipes

& More!
So act now and start taking control of your IBS today!
With appreciation,
Cory
Founder, The Gut Program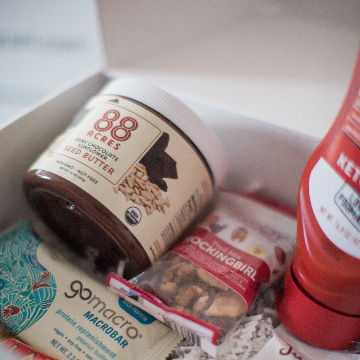 Get Your Free Sample Box - Just Pay Shipping - From The Gut Program
Just click the "Try Out The Low Fodmap Diet For Free" button below and you'll be directed to our secure checkout page. From there just checkout and we'll send you a free Gut Program care package (just pay $4.99 for shipping).